Vito AG takes part in Gulfood Manufacturing Food Fair
Nov. 24, 2022
FMCG HORECA BUSINESS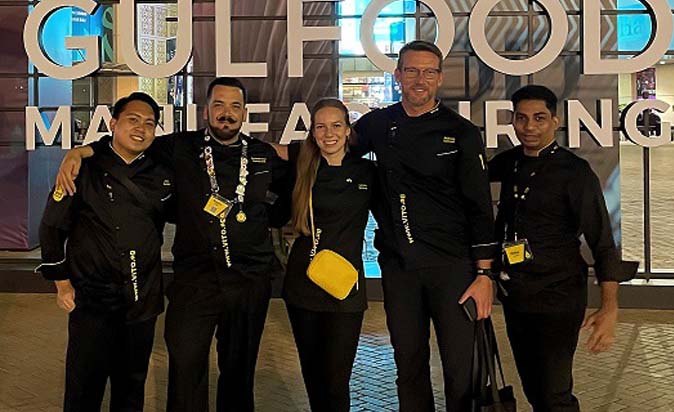 Since 2014, Dubai has played host at the beginning of November as the time for the annual Gulfood Manufacturing event. It is the biggest event of its kind in the Middle East, focusing on the processing of food and beverages. Since the company's inception, VITO AG has made it a point to participate in this particular event. The worldwide powerhouse based in Tuttlingen, Germany, makes the most of this chance to strengthen and further grow its market position in the African, Asian, and Middle Eastern regions. In addition to this, it is an outstanding chance to meet new prospective business partners as well as current clients.
This year, VITO has also made the decision to expand their efforts by participating in an additional expo known as GulfHOST. GulfHOST is an important marketplace that caters to the needs of hotel and catering equipment vendors. The team has recruited more personnel since the demand has been consistently strong over the previous several years and there has been a significant amount of foot traffic at the show booths. Since that time, the VITO branch in Dubai, which is also known as VITO Middle East, has gained permanent assistance from two more staff.
The VITO frying oil filtration system garnered a lot of curiosity from the guests, as was to be anticipated. The VITOconnect application, in particular, has been extremely well received. This program allows kitchen operators to monitor and analyze the usage of their VITO equipment, therefore it has been highly popular. The fact that His Highness Sheikh Ahmed bin Saeed Al Maktoum only stopped at the VITO booth on the first day of the show was a highlight for the VITO team. His Highness Sheikh Ahmed bin Saeed Al Maktoum wanted to get a better look at the VITO equipment before continuing his tour of the German pavilion. In addition to holding the positions of Chairman of Emirates Airline, President of the Dubai Aviation Authority, and Chairman of Dubai World, His Highness is held in the highest regard across the Emirates.
The successful participation in the two trade exhibitions is a happy memory for the firm. They put an exclamation point on a very successful season of trade shows. The time off during the holidays will be spent recharging our batteries so that we can launch into the spring with full force at both Gulfood in Dubai, United Arab Emirates and Internorga in Hamburg, Germany.