Three Must-Try Baking and Pastry Goods are Highlighted.
Dec. 5, 2022
FMCG HORECA BUSINESS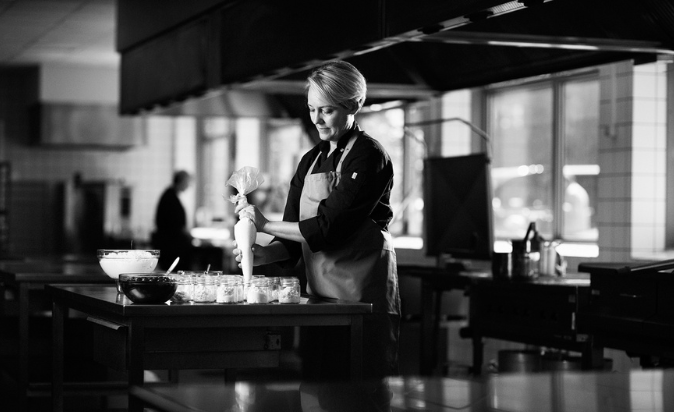 According to the chefs, having the correct materials and the finest equipment is essential for a department of the kitchen as harsh as the pastry section. But these chefs want to be able to trust their partners and care about the origins of the food and the firms' commitment to sustainability and traceability.
Given that the pastry component is such a significant element of hotel culinary operations and a substantial portion of the independent restaurant scene in the Middle East, it is only natural for operators to seek the best for their businesses. Here are three new goods that are ideal for the contemporary pastry area.
Arla Pro Cream Cheese 34% is the ideal ingredient for baking.
Arla dates back to 1880, when Danish and Swedish dairy producers founded a cooperative with a common commitment to quality and justice. Arla Pro is committed to being a partner and facilitator, assisting restaurants in the creation of exceptional dining experiences that are the product of skill, trust, nature, and innovation working in close harmony.
According to analysts, the baking business might be worth over €384 billion by 2026. How therefore may operators get a piece of the pie? As one of the top dairy firms in the world, Arla is here to assist.
Arla Pro Cream Cheese is created to the highest standards, representing the intersection of professional-grade flavor and practicality.
Arla Pro Cream Cheese is both solid and simple to slice, which makes it ideal for cheesecakes, cupcake toppings, and pastry fillings. Arla Pro Cream Cheese 34 percent, which is suitable for hotels, restaurants, bakeries, industrial production, and transportation catering, is typically used for baked or refrigerated cheesecakes owing to its fresh, natural, and mild creamy flavor. It's optimal for use in baking, as well as hot and cold cookery, due to its decreased moisture content. The product's appeal lies in the fact that it preserves the crisp and dry texture of pastries, making it very beneficial for par-baked delicacies.
Reasons to using Arla Pro High Stability Cream
Arla Pro High Stability Cream is produced from fresh, premium-grade Danish milk in accordance with the most stringent quality requirements. It has a delightful creamy flavor, a smooth texture, and a white color, and it may be used to thicken many kinds of sauces, even those containing acidic components. Additionally, it is ideal for pastries, cakes, ice cream, and whipping cream. The dairy cream has 35 percent fat and performs very well in chilly applications. Arla Pro High Stability Cream is the answer if you want your cake decorations to remain crisp and delectable. The foam remains stable for up to two days after whipping, enabling you to take your time with your designs. In addition to its exceptional stability, Arla Pro High Stability Cream has a delicious dairy flavor and doubles in volume when beaten. This cream works very well in both cold and hot applications, including soups and sauces. It is resistant to both heat and acid.
Arla Pro is committed to being a partner and facilitator, assisting you in the creation of exceptional culinary experiences that are the product of skill, trust, nature, and innovation working in close, sustainable harmony.
Arla's history is one of collaboration, and the company maintains the tradition through Arla Pro, partnering with chefs, suppliers, and food companies to go farther, make quicker progress, and challenge the company to adopt new ways of thinking.
Introducing the Cristallino breads from Europastry
Europastry's revolutionary Cristallino breads are offered in the UAE and Oman. The light and crisp bread is great for gourmet sandwiches and as a side dish for any cuisine.
Since the 1980s, the Spanish brand Europastry has dominated the frozen bakery dough market. Europastry provides goods and expertise in the area of baking in more than 80 countries via 22 manufacturing facilities and 33 sales offices.
Cristallino has an extensive bread selection, including bagels, baguettes, hamburger buns, and ciabatta. The assortment is consistent with Europastry's pledge to focus on traceability and provide goods with greater nutritional value. The use of ancient grains, seeds, whole grain flours, and olive oil results in a product with exceptional flavor, texture, durability, and regeneration.
The collection is additive-free and made using high-hydration, clean-label dough (90 percent water content), resulting in a soft, airy inside, a light texture, and a crisp outside. Due to the fact that it is cooked in a stone-only oven, it just takes two minutes to toast and become ready to eat. The 100 percent natural Cristallino achieves a higher level due to the innovations used in its manufacture and the quality that distinguishes the line.
Dovile Vilkiene, baker and general manager for the Middle East and Africa at Europastry, said, "The Cristallino brand is perhaps the most disruptive invention in the baking industry in recent years." Cristallino's popularity is attributable to its recipe and method, which produce an enticing bread with a thin, crispy crust and a light, airy crumb. The Cristallino family currently provides several styles, including pre-sliced cristal bread, burger bread, bagels, and ciabattas. They are offered in bulk or in handy packaging to meet the demands of each individual consumer."