Inaugural Saudi Food Show gathers ministers, global industry leaders and celebrity chefs in biggest F&B industry event to celebrate Kingdom's ambitions & achievements in mega food industry
June 19, 2023
FMCG HORECA BUSINESS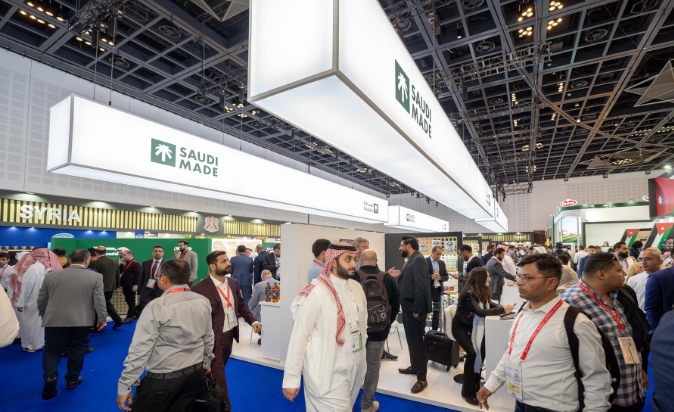 Show launches under the patronage of H.E. Bandar Ibrahim Alkhorayef, Saudi Minister of Industry and Mineral Resources Saudi Food Summit ministerial keynotes to unveil vast strategic business opportunities in fastgrowing F&B market RIYADH
The inaugural edition of The Saudi Food Show at Riyadh Exhibition Centre, held under the patronage of H.E. Bandar Ibrahim Alkhorayef, Saudi Minister of Industry and Mineral Resources, opens its doors tomorrow, as organisers KAOUN International, dmg events and strategic partner of the event - MODON - reveal more details of a packed three days (June 20-22) of trade, insightful content and interactive features. The event is set to create a platform for the largest companies in the food industry to present their products, services, and solutions to a global audience. The Saudi Food Show is affiliated with Gulfood, the world's largest food and hospitality business event in the world.
Thousands of international brands from 43 countries will be represented in the sold-out exhibition, which extends across 20,000 sqm of exhibition space at the Riyadh International Convention and Exhibition Centre. For key players such as Pepsico, Americana, Al Jameel, Lactalis, GulfWest, Seara Foods, IFFCO, NADEC and hundreds more, as well as country pavilions USA, UK, India, Singapore, Italy, Jordan and Australia, the show will be an unrivalled platform to launch new products, services and technologies into the Saudi market.
At the heart of the show, the Saudi Food Summit will be a unique chance for participants to gain insights into market trends, uncover business opportunities and find out how to access the most dynamic market in the Middle East. On the opening day, 20 June, a panel including Ali Alomeir, VP Business Development, MODON – and Prince Waleed bin Nasser Al-Saud, CEO of Mukatafa, will give an overview of the welcoming business environment in Saudi Arabia, and tips for F&B market entrants to the Kingdom. Trixie LohMirmand, CEO of KAOUN International and organiser of The Saudi Food Show, commented: "Vision 2030 seeks to create a dynamic trading hub for the Saudi Arabian F&B sector, and the significant socio-economic benefits arising from the F&B and hospitality sectors have been wellrecognised by the Saudi government, which has brought the industry to the fore, making great strides in laying the groundwork for investment in the sector.
The Saudi Food Show will be a significant catalyst for these efforts, growing the economic impact of F&B and hospitality further and faster on the local, regional and international stages." Matt Denton, President of co-organiser dmg events added, 'This inaugural Saudi Food Show is the first activation in our exciting plans to support the development of the F&B and Hospitality sector in the Kingdom. Over the next three days we will be finalising and sharing details of a full calendar of associated events addressing key aspects and sectors designed to help drive this impressive growth.
From food manufacturing and food tech to franchise, hotels and hospitality, this Saudi Food Show, packed full of inspiring content and features, is the nucleus of a portfolio of dedicated events scheduled for the coming 12 months." Further summit sessions will address some of the most urgent challenges facing the F&B sector in Saudi Arabia and the wider region – food security, sovereignty and sustainability; and mitigating uncertainty and volatility around supply chain and costs. The opening day will also feature speakers including Ryan Lefers, Co-Founder & CEO of RedSea and Bobby Rajendran, CEO of Tamimi Markets, and the day concluding with a visionary keynote from H.E. Bandar Ibrahim Alkhorayef, Minister of Industry and Mineral Resources, Government of Saudi Arabia. The ministerial panel on day two, featuring H.E. Bandar bin Ibrahim Al-Khorayef, Saudi Minister of Industry and Mineral Resources and H.E. Abdulrahman Al-Fadhli, Saudi Minister of Environment, Water and Agriculture, will be a chance to gain insights into the F&B policy and regulatory framework in Saudi Arabia.
The restaurant dining scene in Saudi Arabia will spark discussions on the final day of the Summit, with sessions looking at the regional and international brands seeking to enter – and expand in – the Kingdom. Top Table Saudi Top Table, sponsored by multinational food company, GoodyCo, will give visitors the opportunity to experience the latest dishes and techniques gaining popularity in the Kingdom, from an array of celebrated international and regional chefs, via over 40 masterclasses. The line-up of chefs is a crosssection of international and regional, established names and rising stars, and male and female, all of whom are working on the cutting edge of cuisine. It includes 2 Michelin-starred chef Paco Morales - one of Spain's most progressive young avant-garde culinary masters; Albert Adrià, current head chef of Michelin one-star restaurant Enigma in Barcelona, and former head pastry chef of famed elBulli; Lebanese chef and entrepreneur Maroun Chedid; and Ian Pengelley from Myazu, twice winner of MENA's Best 50.
Furthermore, Chef Pierligui from Signor Sassi, an up-and-coming young chef with more than 1.3M followers on social media, and Saudi chef Rayan Alayesh, from Kayzo by Myazo. Across the three days, Middle East food and lifestyle TV channel Fatafeat will bring 4 female chefs to present masterclasses – chefs Chahrazad Al Hajjar, Salma Soleiman, Sumaya Obaid, and Afnan Al Jaadi. "At Fatafeat, we've always striven to champion the diversity of Middle Eastern cuisines and talented chefs, which resonated with millions of families in the region. As Saudi Arabia's culinary culture has always been, and continue to be a big part of our programs, we are excited to partake in the Saudi Food Show in celebration of the Kingdom's rising food economy. During the event's Top Table segment, our star-studded line-up of celebrity chefs will do a kitchen takeover and perform cooking demonstrations live off-screen," commented Grigory Lavrov, Head of Fatafeat at Warner Bros. Discovery. YouthX Saudi At the inaugural YouthX Saudi, young talent from the Kingdom's leading hotel chains - including the Ritz Carlton Riyadh, Grand Hyatt Al Khobar, JW Marriott Hotel Riyadh, and Four Seasons Riyadh – will compete against each other in the Young Chef Challenge, to present a three-course menu in 25 minutes.
The themes will be sustainability and zero waste, and menus will be judged on vision and industry acumen, alignment with the themes, presentation and taste. The winning team will not only scoop a cash prize, but also win a place in the international finals set to take place at Gulfood 2024. Judging the competition is media personality, celebrity chef and host of the hugely successful 'World Café', Bobby Chin. The inaugural Saudi Food Show is affiliated with Gulfood, the world's largest, go-to event brand trusted by the global F&B industry. Over almost three decades, Gulfood has cultivated the credibility, loyalty, recognition, and support of the global food and beverage sector, through an unwavering commitment to delivering real global business outcomes and valuable trade deals for participants. The Saudi Food Show draws upon this legacy and powerful international foundation. The Saudi Food Show is strictly is strictly for trade and business professionals only.