In the UAE,AL Ain Farm Introduses New Lacto - Free Diary Products
Oct. 16, 2022
FMCG HORECA BUSINESS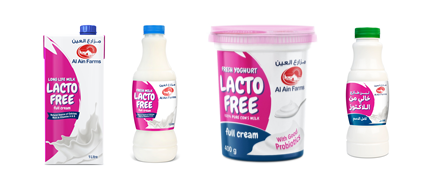 Al Ain Farms, the nation's first dairy firm and now the biggest integrated dairy company in the United Arab Emirates, is expanding its product line to meet the rising demand for lactose-free goods. Customers may enjoy the nutritional and flavor advantages of dairy without experiencing the pain associated with lactose intolerance. This is the next stage in the company's continuous effort to become the preferred food and beverage brand in the United Arab Emirates.
The Lacto Free Dairy collection from Al Ain Farms consists of four products:
1 litre of Fresh Whole Milk
Whole Milk Longevity Milk 1L
400g of Full Fat Fresh Yoghurt
Full-Fat Laban 400gr
The collection is particularly created to provide the same outstanding flavor, texture, and feel that customers have come to expect from Al Ain Farms Dairy products, without the lactose. Beginning in October 2022, it will be accessible in all major supermarkets and grocery stores.
Demand for lactose-free goods is increasing in the UAE.
Al Ain Farms commissioned a poll of over one thousand U.A.E. citizens to see if customers are concerned about the unpleasant symptoms connected with dairy intake.
25% of responders report gastrointestinal discomfort
23% of respondents report having a distended stomach.
22% of respondents report having stomach cramps and aches.
Dietary and lifestyle limitations were imposed as a consequence of these symptoms.
40% of those impacted by these symptoms reported having to forego their favorite meals.
39% of respondents said that their side effects hinder their ability to enjoy meals with friends and family.
Al Ain Farms is committed to serving lactose-intolerant consumers, motivated by the notion that no one should be forced to forsake their favorite meals in order to maintain a healthy lifestyle.
Hassan Safi, CEO of Al Ain Farms, said, "At Al Ain Farms, we are happy to have provided the UAE with fresh, locally-made goods for almost four decades. Our new Lacto Free Dairy product line exemplifies our commitment to making the delicious taste of dairy accessible to all customers, without exception. Because of this, our new lactose-free recipes have undergone extensive testing to guarantee that they meet the high taste and quality standards for which we are recognized."