French Agri-Food of the Highest Quality at Gulfood Manufacturing & Gulfhost F&B Experts are Ready to Serve the Middle East with the Latest Industry Innovations from Manufacturing to Cooking.
Nov. 7, 2022
FMCG HORECA BUSINESS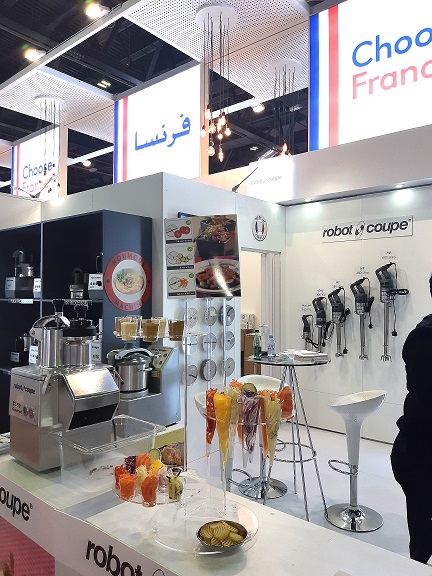 Business France, the national agency supporting the international development of the French economy, has announced its participation at Gulfood Manufacturing & Gulfhost with 58 French exhibitors in 3 French Pavilions: Processing & Packaging (Sheikh Saeed Hall 1), Food Ingredient (Hall 5-6-7-8), and Hospitality & Foodservice equipment (Za'abeel Hall 2 – Gulfhost).
Innovative solutions customized to the food industry's particular requirements
French enterprises will welcome foreign guests in order to network, sign contracts, and expand food processing industry partnerships. In a rapidly expanding sector where Food and Beverage professionals must adapt quickly without sacrificing quality, France at Gulfood Manufacturing seeks to meet this challenge by presenting new solutions from 70% of its equipment manufacturers.
From materials to machinery and food processing equipment, the French offer is poised to meet the rising need for catering equipment, eco-friendly packaging, cold chain, milk treatment, automated cheese, liquid filling, stainless steel kitchens, turnkey solutions, and more. Exhibitors will showcase organic, vegan, functional, and conventional product lines. Learn about French dairy components, vinegars, powders, and liquids, egg processing technology, and plant-based ingredients, among others.
Flavie Paquay, UAE Director of Business France and Head of the Agritech Department, said, "Over the last several years, the UAE and GCC food sectors have grown increasingly self-sufficient. Governments undertake several initiatives to decrease food waste, fund research, and more! To achieve self-sufficiency, the GCC area nations have made substantial investments in improving local food production, distribution, and storage. The French firms participating in Gulfood Manufacturing are prepared to engage with the area to establish a robust food ecosystem due to their high-tech ideas, solutions, and goods of the highest quality."
French enterprises at Gulfhost are prepared to fulfill the stringent requirements of the UAE market.
In Za'abeel Hall 2, the Gulfhost Hospitality & Foodservice special section will feature seven French firms under the banner "Choose France" while showcasing the finest in Hospitality & Foodservice.
France is an international power. Flavie Paquay noted that the high criteria established by the UAE for this edition of Gulfhost and Gulfood Manufacturing are an opportunity to showcase the finest of the French Food & Beverage Industry on the world scale.
A significant occasion for the UAE's food security plan
The United Arab Emirates produces 5.96 million tons of food and beverage goods yearly, with the ability to generate three times that much in a crisis. The newest innovations in sustainability, quality, and competitiveness will be the event's key focus for UAE professionals. Therefore, the agriculture sector's issues, notably food production and administration, need foreign supply and innovation. In addition to being an important market, the UAE is also a $7.5 billion re-exportation center for food and agricultural goods (2020).