Elevating Experiences with Lazulite Technology Services
July 10, 2023
FMCG HORECA BUSINESS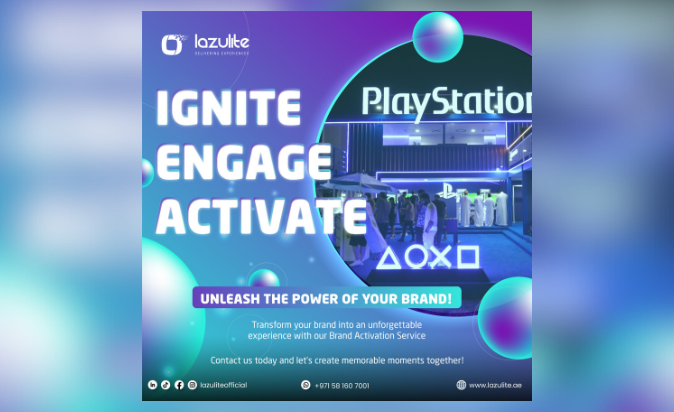 At Lazulite Technology Services events and experiential marketing reach new heights through cutting-edge technology solutions. Lazulite specializes in creating unforgettable experiences that leave a lasting impression on audiences. With a focus on interactive technologies and innovative marketing strategies, Lazulite pushes the boundaries of event technology, delivering superior brand activations that drive customer engagement and foster brand loyalty.
The team of experts at Lazulite Technology Services is dedicated to transforming events into immersive journeys. By harnessing the power of interactivity, kinetics, holograms, robotics, gamification, and artificial intelligence, Lazulite brings brands to life in ways that resonate with audiences. Their goal is to craft experiences that captivate and engage, making a genuine impact on target audiences.
As leaders in event technology, Lazulite offers a comprehensive range of cutting-edge solutions designed to enhance efficiency, productivity, and customer engagement. With expertise in embedded systems, Lazulite ensures seamless integration and flawless execution of events. By leveraging state-of-the-art technology, Lazulite empowers brands to make a lasting impression.
You can step into a world where reality meets the extraordinary with Lazulite's augmented reality (AR) and virtual reality (VR) technologies. These immersive experiences transport audiences into digital realms, offering virtual tours, product demonstrations, and gamified experiences that create unforgettable moments and enhance customer interactions. Lazulite's AR and VR solutions redefine the boundaries of imagination, bringing brands to life in previously unimaginable ways.
Prepare to be captivated as Lazulite brings a touch of futuristic magic to events with hologram displays and interactive touch screens. These awe-inspiring displays not only capture attention but also enable audiences to engage with brands in dynamic and memorable ways. Lazulite's interactive storytelling and tactile interactions forge deeper connections with audiences, leaving a lasting impact.
Lazulite's cutting-edge robotics solutions add a touch of novelty and excitement to events. From interactive robots that entertain and engage attendees to automated systems that streamline processes, Lazulite enhances the overall event experience. By combining technology with human connection, Lazulite transforms events into unforgettable spectacles.
At Lazulite, custom event solutions are a priority. Understanding that each event is unique, Lazulite's team works closely with clients to tailor experiences to specific needs and objectives. By creating personalized experiences that resonate with audiences, Lazulite aims to leave a lasting impression and foster brand loyalty.
When partnering with Lazulite Technology Services, clients gain a trusted ally in creating exceptional experiences. The team of skilled professionals at Lazulite combines technical expertise with a deep understanding of experiential marketing, delivering outstanding results. Whether it's enhancing brand awareness, driving customer engagement, or achieving marketing and growth goals, Lazulite is committed to helping clients succeed.
Discover the latest projects and witness the transformative power of Lazulite's technology solutions. Elevate events, exhibitions, brand activations, and experiential marketing with Lazulite as the go-to partner. Unlock the full potential of technology and create memorable experiences for audiences by leveraging augmented reality, virtual reality, hologram displays, interactive touch screens, robotics, and custom event solutions. Let Lazulite Technology Services help brands stand out and leave an indelible mark on audiences.