Coconut Milk Powder Liberates Vegan Possibility.
Nov. 23, 2022
FMCG HORECA BUSINESS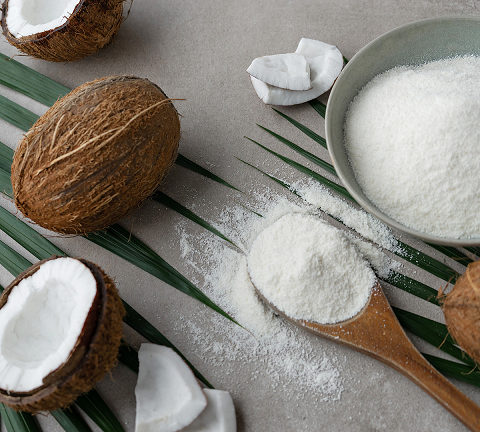 In its Food Report 2023, the Frankfurt Future Institute referred to fusion as "the gastronomic globalization of everyday life." Fusion cuisine blends elements of several foreign cuisines. Ginger and turmeric enhance fruit smoothies, while coconut milk and kaffir lime leaves give kale curries a unique flavor. Whether soups, curries, or desserts, homemade or packaged, coconut milk imparts an unusual flavor to a variety of dishes and drinks. This has solidified its place in fusion cuisine. Moreover, being a plant-based product, it fits well with the growing plant-based trend.
Today's customers anticipate that natural foods will be delicious and beneficial to their health. As a functional alternative to regular milk products, vegan coconut milk powder is ideal for preparing fully plant-based beverages and sweets. Sternchemie offers coconut milk powder from the SternCream range for every use, including conventional, vegan, and organic recipes, for industrial clients and the out-of-home market.
The new SternCream Vegan is adaptable and easy to use. Its very high coconut milk content imparts a genuine, authentic coconut flavor and a subtle sweetness. Ice cream, praline and wafer fillings, as well as sweet and substantial appetizers, have a very creamy feeling. Additionally, SternCream Vegan enhances the texture of soups, sauces, creams, and dips. Due to its excellent instant and flow capabilities, this coconut milk powder dissolves rapidly in lukewarm water to provide a smooth consistency. As a natural substance, it is also highly declaration-friendly, unlike coconut flavorings and extracts, whether as coconut cream or coconut milk powder. Additionally, it is easy to administer and lasts longer than traditional coconut milk.
Benefits accrue from manufacturing with care
SternCream goods are created only from carefully chosen, ripe coconuts, whose flesh is first cleansed, then chopped, and then pressed. To achieve the greatest level of final product purity, the extracted coconut milk is filtered twice. It is then pasteurized and spray-dried to ensure consistently excellent quality, which is validated by testing by a sensory panel. Due to its low water content and resistance to oxidation, SternCream powder has a minimum shelf life of 24 months. Additionally, it has greater microbiological stability than coconut milk or coconut flakes. Due to the delicate drying procedure, all of the beneficial components are preserved. In addition, SternCream requires no preservatives, colorings, or flavors.
SternCream Technical Product Manager Katrin Baumann states, "Together with our clients, we aim to improve and adapt our solutions to present and future market needs." The emphasis is on nutritional, trend, and ethical concerns, with protein enrichment, fat reduction, and additional fiber, as well as organic food and plant-based dairy replacements. This coconut milk powder provides food makers with a means to enhance current goods and create extremely desirable new items for growing segments such as the plant-based category.
Enduring partnerships with raw material providers
In light of the present raw material supply constraints and the current economic climate, cost management, reputable suppliers, and the availability of raw materials are crucial. Customers of Sternchemie benefit from strong partnerships with Sri Lankan and Southeast Asian suppliers. "Close cooperation and extensive information sharing with our partners in the source nations are the foundation for our capacity to proactively satisfy the market's escalating quality requirements," explains Svea Rahlf, Quality Manager at Sternchemie. "Sensitive customers, enhanced analytical techniques, and more stringent regulatory requirements are pushing a greater emphasis on raw material quality and process control." SternCream is a natural cream offered by Sternchemie that combines versatility and dependability.