At the Global Media Congress, Ras Al Khaimah will highlight its comprehensive sustainable development and wealth of opportunities.
Nov. 6, 2023
FMCG HORECA BUSINESS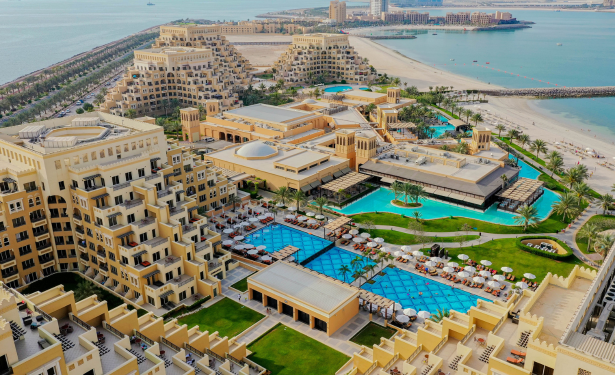 Ras Al Khaimah, United Arab Emirates: Under the patronage of His Highness Sheikh Mansour bin Zayed Al Nahyan, Vice President, Deputy Prime Minister, and Chairman of the Presidential Court, Ras Al Khaimah is scheduled to showcase the impressive sustainable development that it has accomplished through the participation of Ras Al Khaimah Government Media Office (RAKGMO) and Ras Al Khaimah Radio Authority at the Global Media Congress, which is being hosted in Abu Dhabi.
At the three-day event, which is being held at the Abu Dhabi National Exhibition Centre (ADNEC) from November 14 to 16, 2023, RAKGMO will be showcasing its successful media campaigns and representing Ras Al Khaimah with a 144 square metre, purpose-built stand. More than 13,000 attendees, over 5,000 delegates, and 170 eminent speakers are anticipated.
Inspired by the wisdom of His Highness Sheikh Saud bin Saqr Al Qasimi, UAE Supreme Council Member and Ruler of Ras Al Khaimah, and driven by his vision for the future, Ras Al Khaimah has been undergoing a cross-sector surge in sustainable development in recent years, with multiple billion-dollar investments in hospitality, expansion of key infrastructure and a monumental growth in the business sector highlighting the Emirate's growing status as a leading location to work, live and explore.
H.E. Ms. Fatani, Director General of RAKGMO, said: "Ras Al Khaimah Government Media Office's mission reflects the vision and principles of His Highness Sheikh Saud bin Saqr Al Qasimi, UAE Supreme Council Member and Ruler of Ras Al Khaimah, who is a strong proponent of harnessing the power of the media to convey Ras Al Khaimah's inspiring story to the world, enhance our global standing and showcase the Emirate's remarkable advancements.
"We aim to embrace the potential of media to connect cultures, form collaborations, and change the future by taking part in the esteemed Global Media Congress for a second year in a row. Our attendance at the Congress is evidence of Ras Al Khaimah's steadfast dedication to creating a world of cordial discourse and powerful storytelling.
"Business, investments, or tourism—Ras Al Khaimah is experiencing growth that is now being acknowledged on a global scale. It is now a popular place for people to travel, live, and work, and one of our main goals is to make sure that the world is aware of the Emirate's inspirational tales.
Visitors to RAKGMO's dynamic exhibition area will be introduced to media activities and strategic goals intended at strengthening the Emirate's visibility on the global media landscape. Additionally, the Ras Al Khaimah Radio Authority will offer "The Live Broadcast" from the stand. It will be hosted by journalist Mohammed Ghanem Mustafa, the Director-General of the Authority, and it will feature several media representatives who are attending the Congress. During the three days of the Global Media Congress, this radio programme will be the first in the UAE to broadcast live.
The themes of this year's Congress are Youth, Education, and the Future of Media; Sports Media; Innovation and Latest Technologies in Media; and Sustainability. It will give journalists, tech companies, content producers, digital marketers, streaming behemoths, entertainment executives, regulators, and other important media stakeholders a forum to exchange knowledge and seize chances to form commercial alliances with international media organisations.