Over the span of seven years, Hotpack will construct a $1 billion packaging facility in Saudi Arabia.
April 11, 2023
FMCG HORECA BUSINESS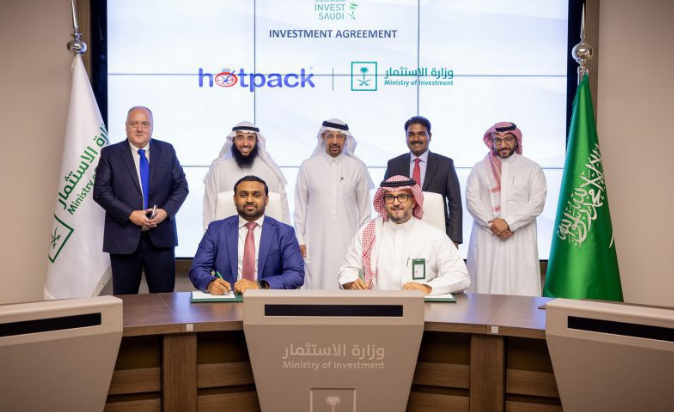 Hotpack Global, the global leader in food packaging products headquartered in the United Arab Emirates, has announced its intention to construct one of the world's largest sustainable packaging facilities in the Kingdom of Saudi Arabia at a cost of approximately SAR 1 billion. The company has inked a Memorandum of Understanding (MoU) for this investment with the Ministry of Investment of the Kingdom of Saudi Arabia and the Ministry of Industry and Minerals.
At a ceremony held at the Ministry of Investment headquarters in Riyadh, the agreement was signed in the presence of HE Khalid Al Falih, Minister of Investment; HE Osamah Alzamil, Deputy Minister of Industry and Minerals; HE Fahad Alnaeem, Deputy Minister of Investment; Mr. Abdul Jebbar PB, CEO and Group Managing Director of Hotpack Global; and senior officials from both ministries. The Hotpack Global delegation consisted of Suhail Abdullah, Group Vice President; Dr. Mike Cheetham, Global Business Development Director; Suhas KA, Operations Director – KSA; and Muhammed Sherief, General Manager – KSA.
The investment is consistent with Hotpack's vision to become the leading global manufacturer of packaging products for the food, agriculture, and retail industries. Multiple phases of the project are envisioned, and upon completion, the project will address the anticipated surge in demand for sustainable packaging in the Kingdom. In addition, it will bolster the nation's food security strategies and contribute to a robust food system.
Hotpack will construct a 2.4 million-square-foot, state-of-the-art manufacturing facility with cutting-edge machinery and industry 4.0 technologies that integrate the Internet of Things (IoT), artificial intelligence (AI), machine learning, cloud computing, and analytics into its production and operation system.
The initiative will allow Hotpack to accomplish scalability while maintaining a commitment to sustainability and innovation. In a number of ways, this investment is also consistent with its Vision 2030. The initiative will also assist Hotpack in gaining a substantial market share in Saudi Arabia, with the anticipated creation of 1,200 jobs.
Regarding the megaproject, Mr. Abdul Jebbar PB stated, "We are thrilled to begin this multi-phased project in Saudi Arabia. The availability of local raw materials, robust domestic consumption, export potential, and government incentives all contributed to the development of this endeavor.
"Once completed, this will be the world's largest manufacturing facility in the packaging industry, producing products from a variety of raw materials, including paper, biomass, aluminum, and polymer. The proposed facility will assist Hotpack in increasing its exports by 30 to 35% over the next few years. This facility also signifies Hotpack's entry into the medical disposables market, he added.
"Sustainable packaging will remain the focal point of our research, and we are collaborating with a number of global brands to help them transition to more sustainable options," said Mr. Mike Cheetham.
In pursuance of its global aspirations, Hotpack has implemented an aggressive expansion strategy based on acquisitions and green field initiatives. Recently, Hotpack established its largest manufacturing facility in National Industries Park in Dubai for the production of Polyethylene terephthalate (PET) packaging products.
Hotpack's website, www.hotpackwebstore.com, is the largest e-commerce platform for packaging products in the region.
With a portfolio of over 4,000 products, Hotpack Global is the largest manufacturer of food packaging products in the Middle East. Currently, the company employs 3,500 people and exports its goods to over 106 countries worldwide. Hotpack is present in 15 countries, including the Middle East, United Kingdom, United States, India, Malaysia, and Africa.