One&Only One Za'abeel debuts on December 1
July 18, 2023
FMCG HORECA BUSINESS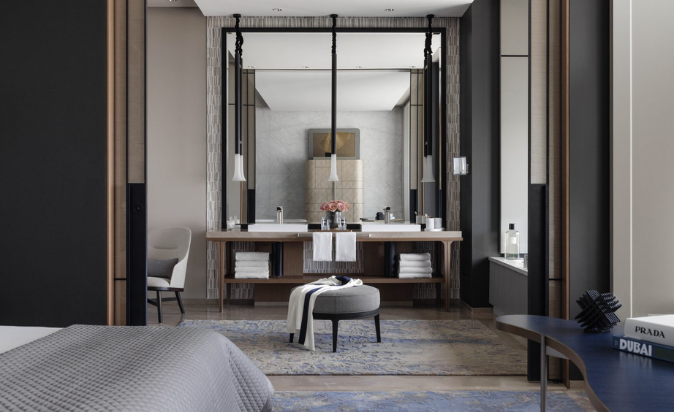 On December 1 of this year, One&Only unveils its first-ever urban hotel. One&Only establishments are regarded as Dubai's first ultra-luxury brands and are well-known for their amazing food and beverage offerings, roomy accommodations, and often, expansive resorts. One&Only One Za'abeel is referred to as a "vertical resort" and is situated in a twin-tower complex with "The Link" linking the two. This will be the resort's main eating destination.
"Kerzner International has a history of defying expectations, and our first One&Only Urban Resort is no different. According to Philippe Zuber, CEO of Kerzner International, One&Only One Za'abeel redefines what it means to provide ultra-luxury hospitality in the middle of a metropolis.
"All of the One&Only DNA's components—life and energy, space and solitude, handpicked experiences, and great service—have been transposed to a vibrant urban environment in our urban resorts. Each One&Only resort, found in the most stunning locations on Earth, is a remarkable one-of-a-kind that honors the special charm of its setting.
One Za'abeel, which permanently transforms Dubai's skyline, is a historic architectural creation for the UAE as well as the rest of the globe, and we are delighted to debut our first Urban Resort in such a breathtaking location. The One&Only will feature 229 rooms and suites, while SIRO One Za'abeel will have 132 keys.
Who is the GM?
As cluster GM, Jan Tibaldi will manage both SIRO and One&Only. In the Maldives, Tibaldi oversaw the One&Only Reethi Rah for four years. Prior to that, he spent five years as the general manager of The PuLi Hotel in Shanghai. However, much of his knowledge was gained while working as the general manager at One&Only Le Saint Geran in Mauritius in 2006, One&Only Kanuhura in the Maldives in 2005, and One&Only Le Touessrok as a resident manager in 2004.
"It is thrilling working alongside the team at One&Only One Za'abeel to bring this property to life," the new general manager stated. This brand-new emblem is a vision for the future, upending the idea of what it means to provide ultra-luxury accommodation in a vibrant global environment. Visitors will encounter a world inside a world where they may work together, rejoice, and reassess in equal measure.
One Zaabeel's infinity pool
The longest infinity pool in the UAE will soon be unveiled at One Za'abeel as the project moves forward. The Link, the longest cantilever podium in the world, will house the pool. It will be situated on top of the 100-meter-high building, sandwiched between the two towers of One Za'abeel. The pool area seems to include luxury cabanas with unbroken views of the Dubai cityscape, based on what we can tell from the blueprints.
Sunken pods and swim-up bars will also be included in the pool. On one side, the Burj Khalifa and the contemporary skyline of Downtown Dubai will be seen from One Za'abeel, and on the other, Zabeel Park.
Tapasake is the name of the new location, which will reflect the vibe of a beach club. The sparkling infinity pool, which is located across from The Link, is set to be complemented with DJ music, cool drinks, and a tapas-style menu of Japanese-Peruvian snacks.
More information about the food and beverage options at The Link
One of the most renowned female chefs in the world, Anne-Sophie Pic, serves French cuisine at La Dame de Pic as part of The Link's lineup. The modern Moorish food served at Qabu by Paco Morales will honor Cordoba's culinary heritage.
Sagetsu, a restaurant run by Tetsuya Wakuda, elevates both traditional and contemporary Japanese food. The chef combines traditional French methods with the Japanese belief in utilizing fresh, in-season ingredients. The dynamic combo of Bo Songvisava and Dylan Jones' DuangDy by Bo.Lan brings Bangkok's most cutting-edge Thai experiences. They're opening Bo.Lan, a restaurant renowned for its sustainability.
Arrazuna by Mehmet Gürs is a high-end food hall and market with eight open kitchens, gourmet shopping, and cuisines from the Levant and the Arabian Peninsula. The chef is renowned for providing contemporary Anatolian food.
StreetXO by Dabiz Muoz will be an international street food restaurant with a distinctive concept built on offering haute cuisine meals in a relaxed and surprising setting. He is regarded as one of Madrid's most avant-garde chefs and finds inspiration everywhere.
A stylish destination bar with panoramic views, inventive mixed cocktails, sommelier-selected wine, and live entertainment, Sphere at The Link will open soon. Andaliman will embrace the robust flavors of the Indonesian archipelago in a lively and participatory setting in The Garden on Level 4.