Microline has been chosen by Caffè Cagliari to Bundle their Coffee Box Sets.
April 11, 2023
FMCG HORECA BUSINESS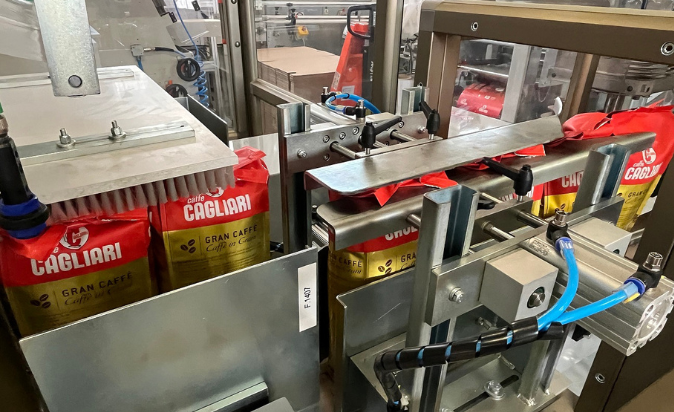 With a focus on the design and development of packaging solutions for tissue products, Microline is a business established in Bologna. It also has a great deal of experience with applications for secondary packaging of consumer packaged goods, including food and beverage items. It was in this industry that it established a partnership with Caffè Cagliari, a prestigious coffee roaster with headquarters in Modena. Caffè Cagliari required specialised packaging for its range of 500 gramme and 1 kilo bags of coffee.
The project's beginnings
The two businesses have been partners for a very long time: It was only natural for Caffè Cagliari to turn to the Bolognese company when confronted with significant new regulations for the secondary packaging of its bags of coffee beans and ground coffee since Microline employees had worked with the Modena-based coffee roaster for over twenty years. These goods are made for a variety of sectors, from high-end retail to the hospitality industry. In all circumstances, it is crucial that the overpack's quality offers exceptional robustness and stress-resistance without sacrificing the aesthetic appeal of the bundle and the individual packets.
The MICROLINE remedy
As a result, Microline created a unique version of their shrink-wrap film-using ML800 wrapping machine. The 500 gramme and 1 kilo bags may be processed using the machine in use at Caffè Cagliari. It can package between 25 and 30 bags each minute, yielding up to 5 or 6 bundles in that period. It is a machine that complies with all Industry 4.0 requirements and has features like the MRA remote support system with the option to add a sophisticated network of sensors for keeping track of energy use. Therefore, everything is designed to maximise productivity and cost savings for clients.
A system for creating eco-friendly remedies
There's more, however. Microline employed the ML800 as a test machine for the creation of new ecologically friendly materials as part of its collaboration with Caffè Cagliari. The Bologna-based business expressly chose to utilise the Caffè Cagliari bags to conduct a number of tests on the ML800 in order to confirm the handling and effectiveness of green packaging solutions. The project was completed as a result of the company's environmental philosophy, which it has been executing for a number of years and which has enabled it to create machines that have a far smaller environmental effect than its rivals. In actuality, Microline's bundlers, such as the ML800, flow wrappers, and wrappers do not produce trimmings, hence preventing wrapping material waste and yielding savings of 20% to 30% in comparison to its rivals.
Microline and ecologically friendly substance
Tests on the ML800 showed that it is compatible with the use of zero-impact eco-film in the area of packaging materials, in particular. According to the testing, the eco-films perform similarly to comparable plastic goods in terms of mechanical strength, pack quality, and throughput. The Microline machines just need a little adjustment to the parameter settings on the HMI panel in order to be able to utilise the biodegradable films; no hardware modifications are required.
Results
The fact that there are no trims at all, despite the fact that the machine in question at Caffè Cagliari presently employs standard packaging films, attests to its potential to ensure savings. The machine is primarily exhibiting productive performance in accordance with the project's objectives, making it a valuable asset for the Modenese coffee roaster's bag packaging line. To enable the real-time transmission of production data such as batch/order number, average, maximum, and lowest speed, quantities generated, and any waste, the ML800 bundler has been linked to the Caffè Cagliari computer system. The use of a bundler in the coffee business is more evidence of the adaptability of Microline technology, which provides packaging solutions for a wide variety of different industries in addition to the Tissue sector, where it is a significant participant.