ASIA FRUIT LOGISTICA Will Be Returning to Hong Kong.
July 26, 2023
FMCG HORECA BUSINESS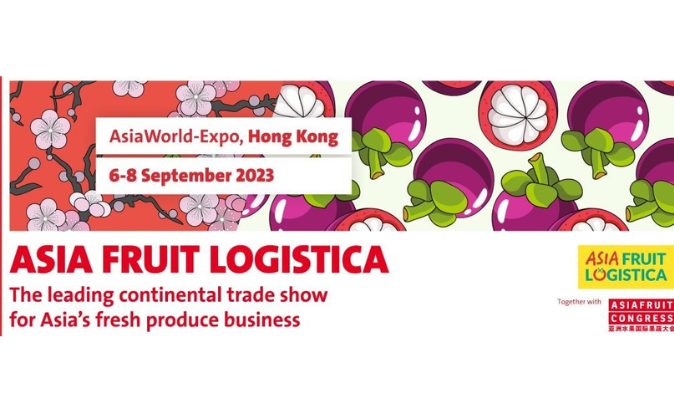 On September 6-8, 2023, Asia's top fresh fruit and vegetable trade expo will return to AsiaWorld-Expo in Hong Kong. On October 12, the ASIA FRUIT LOGISTICA Virtual Focus Day begins.
Asia continues to fuel the expansion of the worldwide fresh produce trade, and Hong Kong, which is home to more than 20 markets, is at the core of this sector. ASIA FRUIT LOGISTICA, the region's largest fresh fruit trade event, has taken the strategic choice to return to its long-established home in Hong Kong in 2023.
ASIA FRUIT LOGISTICA will be held at AsiaWorld-Expo from September 6-8, 2023, bringing together industry leaders from throughout the fresh fruit and vegetable value chain. It will occur concurrently with ASIAFRUIT CONGRESS, Asia's longest-running fresh produce business conference, at which experienced presenters give high-level views on the industry's most important subjects and trends.
"We are thrilled that ASIA FRUIT LOGISTICA 2023 will return to Hong Kong," said David Axiotis, managing director of Global Produce Events (HK) Co Limited, the event's organizer.
"We have missed Hong Kong's unparalleled efficiency, connectedness, business-friendliness, favorable trade rules, and active market. Moreover, it is strategically located in the center of Asia and at the entryway to the Chinese mainland."
"It's thrilling to return and experience firsthand the city's new future-proof infrastructure and venue expansions, as well as to investigate the tremendous commercial potential offered by the Greater Bay Area, which encompasses Macao and nine cities in Guangdong Province."
Hong Kong has loosened its Covid entrance requirements and is now ready to welcome tourists from throughout the globe, without requiring them to undergo hotel quarantine. Inbound travelers from China and Macao may also enter Hong Kong without submitting an application or undergoing a PCR test in advance. For further details, please go here.
ASIA FRUIT LOGISTICA 2023 preparations are well underway, and online exhibitor registration will start shortly. Save the dates for September 6-8, 2023 in Hong Kong for the largest meeting of the global fresh fruit and vegetable sector in Asia.