Although UK retailers report record food inflation, they anticipate falls
May 2, 2023
FMCG HORECA BUSINESS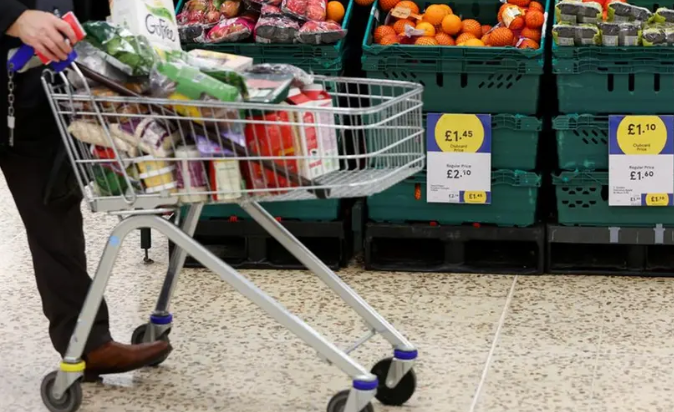 According to the British Retail Consortium (BRC), food costs in Britain increased by a record amount over the previous 12 months, but reduced prices are on the way, providing some respite to pinched consumers. Following a 15% increase in the year to March, the BRC, which represents 5,000 retailers including supermarkets, reported that food prices at its members soared 15.7% in the year to April, the largest increase in records going back to 2005.
Coffee beans, ready-meals, and their packaging and manufacture all contributed to an increase in food inflation, whereas butter and vegetable oil costs declined. According to BRC Chief Executive Helen Dickinson, "we should start to see food prices come down in the coming months as the cut to wholesale prices and other cost pressures filter through."
The BRC's overall inflation rate decreased from 8.9% in March to 8.8% in April thanks in large part to big discounts on apparel, shoes, and furniture. Last October, consumer price inflation in Britain reached 11.1%, the highest level in more than 40 years. The subsequent decline was slower than the Bank of England had anticipated, and in March, it was still above 10%.
The official gauge of food price inflation, which is computed in a different manner from the BRC's, reached a high of 19.1% in March for the first time since 1977. According to the Office for National Statistics, over half of Britons report buying less food than usual, and food prices are tied with energy costs as Britons' top worry.
The market research firm Kantar predicted last week that food inflation dipped to 17.3% in the four weeks leading up to April 16 but added that it was still too early to say with certainty that it had peaked. Based on prices gathered from April 1–7, the BRC data.
MARGINS REDUCE
Retailers of food have stated that they anticipate general price increases in 2023, despite a year-long decline in the rate of inflation and a price decline for some of the most expensive goods. Market leader Tesco predicted last month that as deflation in the grain and oil markets spreads, the cost of baked goods and vegetable oils will decline. Retailers dispute accusations of profiteering by asserting that they have suffered a loss and have margins of 4% or less.
Manufacturers spent 29.1% more for imported food in March according to ONS statistics, down from a record 31.4% increase in the year to October. The price of components made in the country increased by 15.1%. The French government has promised to punish food merchants who fail to pass on decreased wholesale costs to customers. The opposition Liberal Democrats in Britain demanded on Tuesday that the government look into retail profit margins.
Businesses were cautiously optimistic about the outlook for the remainder of 2023, according to other statistics released on Tuesday. According to S&P Global, manufacturers' forecasts for future output reached their highest level since February of last year.
According to the Confederation of British Industry, service sector business volumes dipped slightly in the three months leading up to April, but businesses anticipated a return to growth in the following three months, the first such increase for consumer services firms in more than a year. The trust of its members has increased for five months running, according to the Institute of Directors (IoD), reaching the level it had shortly before Russia invaded Ukraine. IoD head economist Kitty Ussher remarked, "It is particularly reassuring to see a recovery in investment intentions."